Ben Hill Griffin Stadium Seating Chart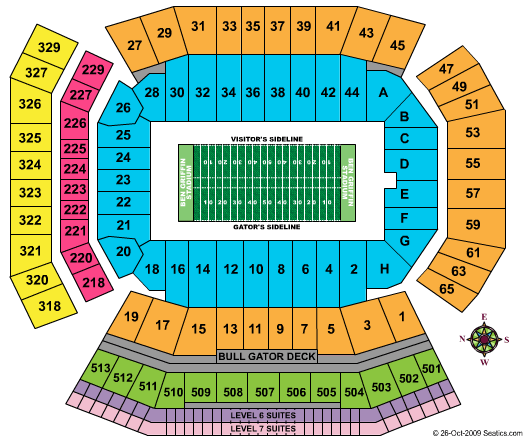 NOTE: Seating layouts may change depending on the event. Make sure you check the individual seating map when selecting your tickets.
The stadium is mainly split into 3 rows: low, middle, and upper decks. Most seats are bleacher seats which means there are no chairbacks.
Student Seating
Student sections are from Sections 23-26,28-35, 37,39, half of 40, 41- half of 44. Fans can expect the student sections to be the rowdiest yet most entertaining as the support their fellow college mates battling it out on the field.
Visitors Seating
Visiting fans Sections are from 43-half of 51, A, and B. We would personally suggest visiting fans to sit in Section 44 of the middle row for the best view.
What are the best seats at Ben Hill Griffin Stadium?
Section 36 and 38 are often considered the best seats in the stadium. However, if money is an issue, we suggest that you can pick Section 2 for the best view of the game as it is closer to the field.
Reserve your seat and order your tickets today! Visit the events page to get started.
For more information on the ticket policy and the preferred ticket provider please view the Ben Hill Griffin Stadium tickets page.
For all upcoming events at the Ben Hill Griffin Stadium please view the Ben Hill Griffin Stadium events page.